Description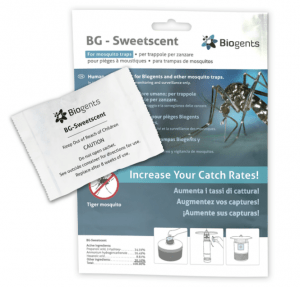 Artificial human scent (booster) specifically developed to attract tiger mosquitoes (and works also with Asian Culex).
Last 2-3 months.
Free from any insecticide.
Made in Germany by Biogents AG.
Suitable for home, office, restaurant and hospital with clean operation.
Keep the first 2 days outdoor if the smell is too strong.
Fits in any suction mosquito trap and boost its catch rate. Scientific research shows an increase of catch rate of tiger mosquitoes by x2 to x4 when combined with a BG-Sweetscent.
https://us.biogents.com/background-information-scents/
Price indicated ex-VAT.